ROSEMARY'S BABY Wikia
WELCOME TO ROSEMARY'S BABY WIKI
This community is dedicated to housing a useful and informative database for all subject matter related to the NBC related shows ROSEMARY'S BABY. Our goal is to collaborate with other fans in order to build a reliable, accurate resource with as much detailed information about episodes, characters, and story elements as possible. All are welcome to join in and contribute here, so long as edits are constructive, discussions are positive, and both are relevant to this series.
ABOUT
Rosemary's Baby is a 2014 two-part, four-hour television miniseries adaptation of Ira Levin's best-selling horror novel of the same name. Zoe Saldana stars in the two-part (May 11 and May 15) NBC miniseries that is directed by Agnieszka Holland. Unlike earlier versions, it is set in Paris rather than New York. The work has not been well received by critics, many of whom said that it was stretched to fill two two-hour timeslots. Although there are several notable changes, this miniseries is considered to be a fairly true updating of the original film adaptation.
Characters
See more characters >>
Multimedia
Featured Article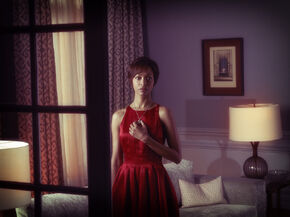 Rosemary Woodhouse is a former dancer, recently moved to Paris with her husband after a miscarriage. With a new pregnancy and a new comfortable life everything seems to be perfect, but something wicked is going on...
Read more >>
Community content is available under
CC-BY-SA
unless otherwise noted.